info@lilangelgifts.com
Phone: 506-832-2800


GIFT CATEGORIES:
*for your wedding party
.For My Mother wedding journal
.For My Mother wedding PHOTO journal
.For My Father wedding journal
.For My Father wedding PHOTO journal
.For My Parents wedding journal
.For My Groom journal
.For My Bride journal
.For My Bridesmaid journal
.For My Maid of Honor journal
.For My Matron of Honor journal
.Flower Girl Memory Book
.Ring Bearer Memory Book
*Our Wedding Guest Journal
.Our Wedding Keepsake Journal
.Grandmother / Grandfather journals
.For My Best Man journal
.For My Groomsman journal
.Blank journal
.For the Bride wedding journal


*baby & children
*for family & friends
*special needs resources
*bridal shower & anniversary
Payments Accepted:

Visa & Mastercard
Have a question?
We'd love to help!

Articles & Links
Our Wedding Guest Journal

Don't care for those boring guest books where everyone just signs their name and the book is left mostly blank? Are you looking for a guest book alternative for your wedding? This is not your traditional wedding guest book!

This guest JOURNAL was designed to be different than the existing wedding guest books. It allows & encourages guests to write more than simply just their name- it also asks them to record a message, advice, best wishes, a memory, or a prediction.

60 pages of Our Wedding Guest Journal have the guest signatures on it (3 per page). If a single person were to fill in the entry, there would be enough room for 180 individual entries. We've set up the entry option though so a COUPLE can jointly fill it out- so in essence, you could have up to 360 guests (if coupled up) sign the book.

There are also 12 lined pages for you to record your Gift List.

Please note: this is NOT a hard cover book. The inner pages are& printed on white cardstock, with a beautiful gloss laminate cover. White coil bound- will lie flat when opened for easy filling out.

Wedding guestbook alternatives never looked so good!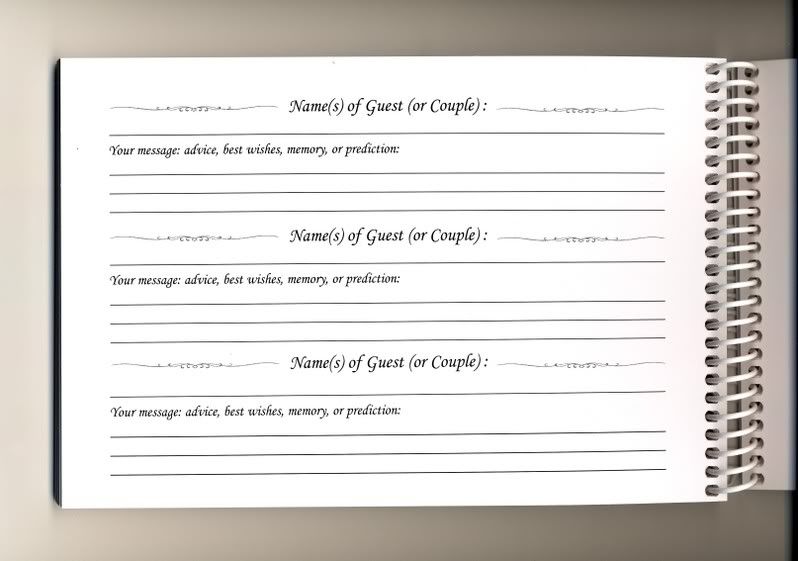 Example of the inside of the book- printed on beautiful cardstock.
Approximate size 6" x 9.5"&nbsp&nbsp&nbsp&nbsp&nbsp&nbsp $26.99 US


| | | |
| --- | --- | --- |
| be sure to find this again!--> | | <--share this great find with others! |
---
You may also be interested in:


Our Wedding Keepsake Journal
A keepsake journal to record all the memories surrounding your relationship and wedding...